How to Write a First Job Resume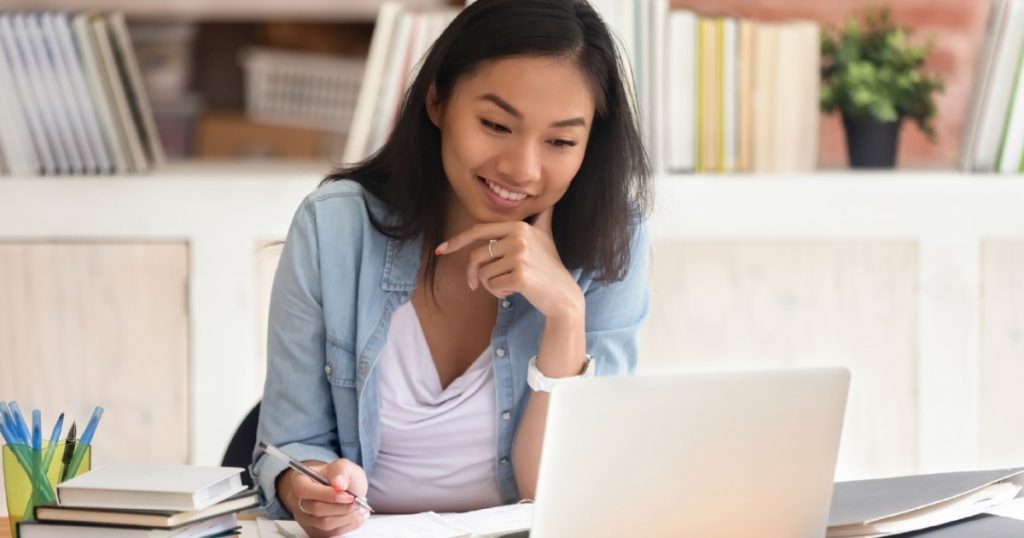 Selling yourself and your skills to an employer can be difficult, especially when you don't have enough experience under your belt. Whether you're writing a first job resume or struggling to find a job out of college, this guide will go over everything you need to include in your resume, even if you think you don't have much to include at all.
Keep reading to find out what you can learn from successful people's first job resumes and download our free first job resume template to help get yours started.
What to Include in Your First Job Resume
Keep your resume simple and easy to read while still providing the most relevant information the employer will need.
It's advisable to keep it short and easy to understand. Since most employers receive many resumes in a day, they won't have time to read over pages and pages of content—in fact, hiring managers spend an average of only six to eight seconds looking at each resume.
Most first job resumes should include these sections:
Contact information: Name, phone number, and email address.
Summary and objective: Describe yourself and your objectives.
Work experience: Past jobs, activities, and volunteer experiences.
Education background: High school and/or college education, courses, and certifications.
Skills: Relevant skills and achievements.
Hobbies and interests (optional): Fun facts, relevant hobbies, awards, and interests.
How to Make a Resume For Your First Job: 10 Steps
Starting your first job resume can be daunting and maybe even make you feel like you don't have any relevant experience to add to the workplace. However, you can still create a great resume by taking a step back and considering everything you have accomplished in the previous years.
Have you helped a family friend and babysat a couple of weekends during high school? Congrats! You've proven you can time manage your schoolwork while using your communication skills and even-temperament to calm down a five-year-old.
Or maybe you led a long school project for an after-school club. Great job! You've already demonstrated leadership skills.
Every experience — both inside and outside of a professional workplace — can count toward your achievements on a first job resume. Even if you've never had a job before, there are many ways you can present your skills and experience to impress relevant employers. To that end, here's how to make a resume for your first job.
1. Figure Out the Best Way to Organize Your First Job Resume
The first step in writing your first job resume is to figure out the best way to organize it.
If you're a recent graduate or still in school, you can choose to have your education information first and then your work experience. If you do have some experience to list out, it can be a good option to start with that first, since it's more relevant for an employer.
Here are three ways you can organize your first job resume:
Chronological resume: Resumes in chronological order focus on your past experience. The experience is listed out in reverse chronological order, so your most recent job or degree should be listed out first and then followed by the previous positions. Chronological resumes also list out a summary, achievements, and certifications.
Functional resume: In a functional resume, you will focus on your skills and abilities instead of your experience. This can be a great option if you don't have much experience, since you can highlight your most relevant skills instead of focusing on your experience. This kind of resume can help you prove to the hiring manager that you are capable of performing the job.
Combination resume: If you have some experience, especially if it's not completely related to the position you're applying for, a combination resume can be a good option for you. In a combination resume, you will combine both the functional and chronological resumes, listing out your skills and abilities first and then adding your experience in reverse chronological order.
2. Start With Your Name and Contact Information
Once you figured out the best way to organize your resume, begin by listing out your contact information. In the header at the top of the page, include:
your first and last name
phone number
email address
You can also include your current location, LinkedIn profile link, and portfolio link.
3. Research Resume Keywords
Employers receive an average of 250 applications per job post and 75 percent of them use some sort of applicant tracking software. So if you've received a couple of rejection emails soon after submitting your resume, there's a chance it wasn't correctly tailored for the position and was rejected by the software.
That being said, it's advisable to do some keyword research before writing your first resume in order to make sure your skills and experience that you listed match the job description and increase your chances of getting an interview.
Take a look at the job descriptions for positions you want to apply for and pay extra attention to the requirements, qualifications, and responsibilities sections. Write down some of the common keywords you see and compare them to your skills and experience.
Once that's done, you can tailor your resume accordingly and include some of the keywords if they relate to your experience.
4. Include Your Skills and Education
Now that you have your preferred way to organize your first job resume as well as your tailored keywords, it's time to bring your resume to life by listing out your skills and education.
Having your skills and abilities included in your resume will help employers see if you're a good fit for the position within seconds, especially if you don't have much experience. Including your education and experience in reverse chronological order will also allow them to see what you've been working on for the previous years.
5. Write Your Objective
Resumes commonly feature a short summary section at the beginning, which is also known as your objective. In this section, write a couple of sentences about yourself, your relevant skills, or what you hope to accomplish in the workplace.
Although some people choose not to include this section, it can be a quick way to show what you can provide to the employer. It can also show them if you're a good fit for the role, especially if this is your first job resume.
Here are some examples of good and bad resume objectives:
Good Objective
Bad Objective
 

I am a highly-motivated and resourceful individual experienced in customer service and seeking to grow my knowledge of content marketing.

 

My objective is to find a good-paying position to show off my skills.
 

Recent high school graduate seeking an entry-level position in women's retail. Hoping to showcase my customer service and communication skills.

 

Recent graduate looking to work for a company that fits my personality.
 

Actively searching for an entry-level position in healthcare to live out my passion for providing care.

Looking for a job in retail. Currently I have no experience but I am a hard worker and will do anything to get the job done.
6. Highlight Soft and Hard Skills
When listing your skills on your first job resume, it's advisable to include both soft and hard skills.
Soft skills: Skills relating to your personality. These are usually hard to teach and can add great value. They can relate to your work ethic and how you interact with people.
Hard skills: Skills that you have learned and are measurable. They are usually mastered and enhanced through practice, and you can typically learn them from classes and courses.
Here are some examples of soft and hard skills:
| Soft Skills | Hard Skills |
| --- | --- |
| Adaptability | Bilingual or multilingual |
| Communication | Programming languages |
| Problem-solving | Software knowledge |
| Time management | Marketing concepts |
| Ability to work under pressure | Academic degrees |
| Creativity | Computer skills |
7. Feature Education and Certificates
When applying for a job, employers are interested in your education and certificates. On your resume for your first job, include the education you acquired, such as degrees, GPA (if 3.5 or higher), and relevant coursework, as well as certifications, including projects and academic achievements.
8. Add Volunteer and Extracurricular Activities
Including any volunteer and extracurricular activities on your resume is especially important when you don't have a lot of job experience. On your first job resume, list any relevant activities and what you have acquired during them. These will show that your real-world experience has helped build your soft and hard skills.
9. Make it Quick and Easy
The format of your first resume also plays a big role in the hiring process. Keeping it short and concise will help hiring managers read through your resume with ease, and better understand the value you're bringing — on top of showing your organizational skills.
Make sure the resume has a legible font, such as Times New Roman, Calibri, or Cambria, and that it's a minimum of 10 pts but preferably 12 pts.
Although resume colors will depend on the field you're applying for, keeping it simple will help with legibility. Plan to have your resume font in black with a white background, and use a third color, such as blue or green, if you want to place emphasis on a title.
You can also try bolding, italicizing, and CAPITALIZING areas that you want to bring into focus.
10. Consider a Personalized Cover Letter
Depending on the job, you may also be required to provide a cover letter. A cover letter will give you extra space to express yourself and show what you have accomplished and your objectives.
The focus of your cover letter should be on what you can provide to a specific company. Therefore, you should consider a personalized cover letter for each job you apply for. Here's what to include in your cover letter:
Contact information
Hiring manager name or company name
Greeting
Top achievements
Reasons why you're a good candidate and fit for the company
Understanding of the position you're applying for
Formal closing
First Jobs Resume Examples of Successful People
Everyone starts with a blank sheet of paper as their first resume — even the most successful and well-known people. Building experience and skills to add to your resume takes time, but with enough planning, you can create a great first job resume.
To help, let's analyze what a few successful people's resume sections might have looked like when they had little to no experience — remember, we all started here!
Kamala Harris
Before becoming a deputy district attorney and the Vice President of the United States, Kamala Harris dedicated her life to becoming knowledgeable and seeking societal advancement. If Kamala Harris were to create her first job resume before going to law school, her work experience section might look like this:
Since Kamala dedicated a lot of her time during university toward her degree and was looking to become a lawyer, it would be important for her to list out her education experience first.
The experience Kamala lists out, such as work and extracurricular activities, also translates to leadership, which she made a career of today. This is especially helpful when a job requires not only technical training but also the development of soft and hard skills.
Mark Cuban
Mark Cuban's road to becoming a billionaire and eventual owner of the NBA's Dallas Mavericks didn't start easy. He worked various gigs and ventures throughout his career before his success. If Mark Cuban was writing his first resume during college, he would likely include some of his hobbies and interests.
After graduating from Indiana University, Mark Cuban moved back to Pittsburgh and took a job at Mellon Bank. Although his degree likely helped him land a job after college, he didn't have much formal job experience.
Mark Cuban diversified his interests and hobbies to gain experience in different fields, which he eventually diversified his business portfolio as a mega-investor. Highlighting how you acquired different interests and skills can also set you apart from applicants with the same level of experience and education.
Bill Gates
Resumes have changed a lot through the years. As an example, just look to Bill Gates' resume from 1974. Nowadays, we use a different format for resumes, but we can still learn a lot from the skills and experience section of Gates' resume. This is what that section would probably look like when he was first starting out:
Bill Gates uses his self-taught hard skills in his favor when writing his first job resume. He taught himself so many programming languages and ultimately created his own empire. It can be a good practice to include relevant courses during school, project accomplishments, and descriptions of each.
The Bottom Line
Every successful person at some point had to write their first job resume. Identifying your accomplishments and skills, along with your personality traits, can help you build a resume that could potentially lead to a great first job.
Related